Introduction to the Writer
The primary use for this site for the time being is to place some of my research into this blog site.
My research history is quite varied in the topics of interest. This is due to how most of my research topics evolve. I generally work on a particular topic as a result of making what I feel is a "unique discovery". This discovery may not mean that much to various experts in my field of study, but typically it means a lot to me due to the associations I am able to draw due to my areas of interest and my experiences since childhood.
There are several phases of my research and twenty years of life as an academician, chemistry and instructor/adjunct professor in Oregon. During my stay in Oregon, my work evolved from the history of medicine to plant chemistry and the study of medical anthropology. On and off, these were the three topics I tried to become a graduate student, and for the most part became a university professor for. In some cases, how the field developed seemed very much to be a matter of fate–I was in the right place at the right time in my life and the study of the profession I was then about to enter. Other times, it was mostly my curiosity about the discovery and whether or not I could make meaning of it. In the end, most of my projects that developed in this fashion became multi-year studies that I remain devoted to on and off for at least half of a given year. During the best of my research times, I tried to focus on at least two topics at a time, going back and forth between the two, following up on leads on one while contemplating where to go next with the other. The following exemplify these topics.
Hudson Valley Multicultural History
My work in the history of medicine began in 1982 with the discovery of a recipe book written by hand by a Revolutionary War physician of Fishkill, NY–Dr. Cornelius Osborn. Dr. Osborn left behind what is often called a vade mecum, a pocket-sized notebook kept by physicians in which important notes were kept such as methods for using a particular medicine, the latest recipe for brewing beer, or the best way to attend to the melancholy you neighbor was frequently suffering.  In this book, Osborn kept a number of very unusual, personal or trade secret remedies, enough to develop an image of what life was like in this part of the Hudson Valley around 1760.
Osborn began to compose this vade mecum in 1759 and probably composed most of this vade mecum in fairly short time, perhaps a couple of years. This book measured about 4.5 inches by 6.5 inches, and consisted of 82 pages. Most of the pages had writing on both sides. This manuscript was bound in a single piece of folded tanned cowhide to serve as a cover. Closed and folded up this book fit easily within a sachet or a coat or jacket pocket.
Dr. Osborn used this book to compose the various recipes he used as a physician. These recipes most likely represented the most common diseases he had to treat in the valley, and consisted of the various medicines commonly available to him for the time. This book also described a little bit about Osborn's training in medicine, with references to his personal and professional philosophy about disease and illness, as well as his take on some of the more important ailments for the time such as their evolution from one ailment to the next, or their mechanism for developing in the unhealthy or poorly treated body.
Three Families.
The best way to understand Osborn's preachings as a physician, is to understand the culture of the time and the local influences of the numerous friends and families of the Osborns. Most importantly, when Cornelius Osborn was born, the British and Dutch families were still trying to form trustworthy professional and personal associations with one another. For this reason, Osborn's father, James, married into a Dutch family, his wife a member of the Dutch Reformed Protestant Church near Haverstraw. James's responsibilities at the time were to the New York Governor, serving as a surveyor and administrator to the local county governments defining land use plans and laying out the location for the building of state roads.
The Hudson Valley was undergoing its final cultural changes at this time. In terms of world events, the colonies were becoming to be their own cultural entities, and the New York citizens their own distinctly governed entity. Although ruled by Great Britain during the years of the Osborns' upbringings, New York was and to some remained a former Dutch Colony. Most of the citizens continued to speak the traditional Dutch dialects and for the most part engage in traditional domestics practices considered by British Colonists or Loyalists to be improper. The homes that many inhabited retained their distinct look as the former property of old-time Haarlem city residents in the Netherlands. Their internal layout, their kitchen-living floor plans, their fireplace, their decorations, and even their fold-up bed-closets were traditional Dutch design.
When Cornelius Osborn was old enough, he married Helena Parmentier, a young lady just one or two years younger whom he no doubt met during one of his regular excursions with his father along the newly formed roads being built along the west side of the Hudson river. Helena was the daughter of one of the richest and most politically important families of the valley for the time. The Parmentiers were a family of French-descent, Huguenots from the Rhine river valley raised typically in stone houses and castles. The castle on the river where Helena resided was originally produced by one of the first Huguenots to move to the New World and to New York. Her father Maghiel made his way through the inner Long Island area (today in or near the Flushing Meadows area), into lower Hudson valley and finally northward into an area just across from what would later be known as Poughkeepsie. Two generations later, one of his grandsons gave birth to Cornelius's wife-to-be Helena.
Haarlem
Immediately across the river from the Parmentier castle were the Van Kleecks, a family that migrated over from Haarlem, in the United Netherlands. Their patron, Barent Van Kleeck, was formerly a Colonel in the Dutch Army fighting the Spanish, leading to the recapture of the Spanish portion of the Netherlands by 1595. Col. Van Kleeck was different from the Parmentiers in many ways, but one of the most interesting ways was his training and teachings pertaining to disease and health. Like many residents of the higher elevation portions of the United Netherlands, Van Kleeck believed in fresh mountain air, mountain water, and exercise as the means to good health. This differed considerably from the beliefs of the Huguenots just across the way, who relied heavily upon their regularly trained physicians and curees (female spiritualists and faith healers) for health and guidance, and from the Osborns further south who due to James's influence tried to maintain much of the traditional Dutch-English regular medical practices.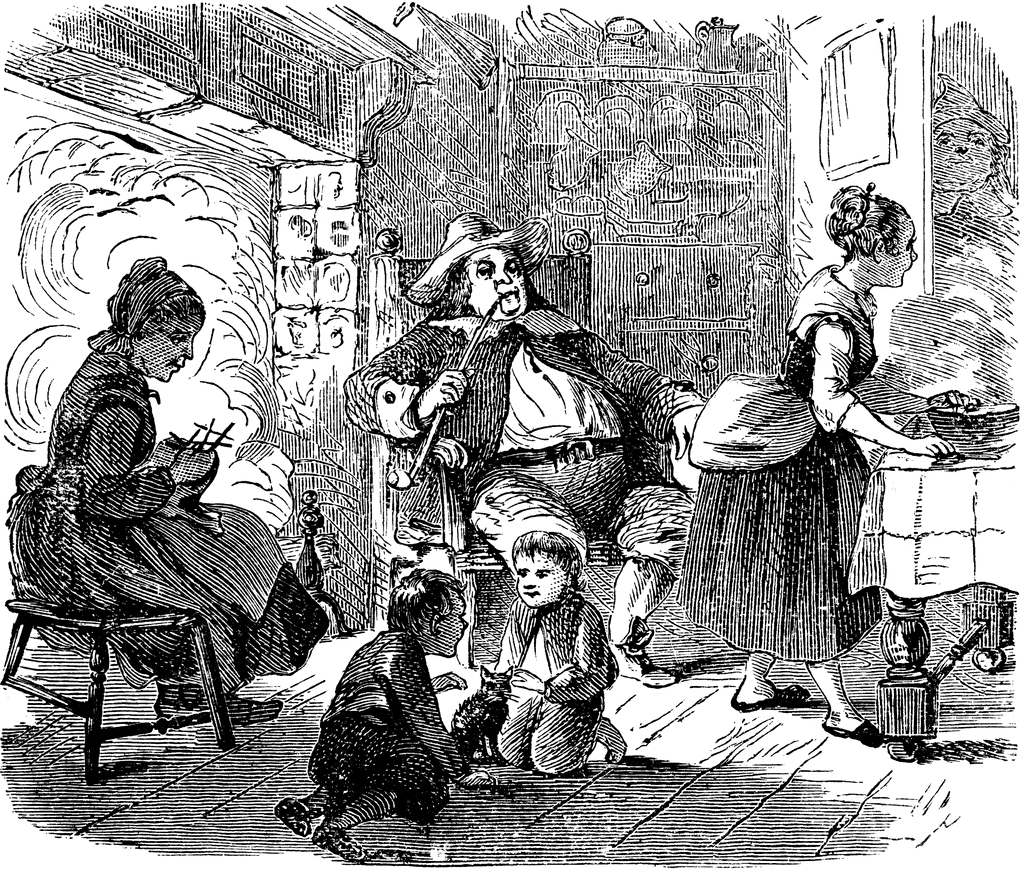 The Emergence of Combined Medical Cultures
This multiculturalism of this part of the Hudson had its reasons for developing, even before the meetings and interactions between these three families during the 17th and 18th centuries. In the beginning of European settlement of this region, the Hudson and Mohawk valleys formed natural boundaries between a number of Iroquois tribes, the distinct Mohegan bands that inhabited this part of North America, and the various much smaller groups of loosely defined tribal cultures, such as the Wappingi who signed the famous contract relinquishing the Island of Manahat (Manhattan) to a Dutch ship Captain Peter Minuit for merchandise totalling (using modern currency values) 22 dollars in value for the time.
Peter Minuit
The multiculturalism of this region very much begins with this interaction between the Dutch and Indians involving Captain Minuit. Captain Minuit was Dutch, but a number of his shipmates and passengers on board the ships were not. In this way, the earliest ships to land on Manahata were the first to introduce a variety of European traditions characteristic of various religious groups and cultural lifestyles previously absent from this region. According to a Yale historian about 1890, this multiculturalism of New York was due mostly to the already well-established multicultural traditions typical of many Dutch societies in the Old World.
Aside from the Dutch, the inhabitants of the United Netherlands included Germanic peoples from the Luxemburg section of this Union, the French and German Speaking Huguenots of the Rhinelands area, the Moravians of Eastern Europe where many natural theological traditional faiths were born within mountain settings, members of the variety of Jewish cultures then well dispersed throughout European such as the Ashkenazi, the Sephardic and the newly born Natural Philosophy-raised Jews of Eastern Europe devoted to their wildernessman and founder Baal Shem Tov.
1982-Discovery of Isaac Marks, of ca. 1742, the first Jewish Doctor
Countries we know of and think about today were less well-defined at the time, or they simply did not exist. Government settings at time were less important than religious and cultural settings. In this way certain geographic regions became well-known for their traditions, not their government or political powers and beliefs. The French of one area could the next year become the Rhinelanders of the another country. The Russian Sephardic Jew of one era in Soviet history might rapidly become the Spanish Sephardic of the next, and the Mediterranean Sephardic of still later. This transformation of cultures took place with the Dutch and their neighbors as well, and after they migrated to the New World, to many it seemed this cycle of lifestyle was initiated all over again in the New Netherlands.
Somewhere amongst these different cultural settings in United Netherlands and New Netherlands were the traditional Dutch families themselves. Like members of the Jewish cultures, they too had their upper or highlanders and low-landers, the communities of which the British journalists often referred to as the rich artisans, scholars, and politicians and the poor countrymen or farmers. When these people came to the New World, this way of life really did not change. Due to governmental authority over land use methods and procedures, the Dutch style of land ownership remained the main defining way in which families, cultural areas, and religious groups formed their communities in the Hudson Valley.
Religion played the most important role in keeping the multiculturalism alive in both the Old and New World. Forming the paths that connected these various groups and cultures together were the socially accepted community leaders and mystics who played important roles as religious leaders. Ultimately, a number of these mystics would play some of the most important roles in enabling the settlements to the New World to finally take place during the early 1600s. Whereas just thirty years prior, as this region came under Spanish rule and its northwest edges became the Spanish Netherlands, there were few of these mystics demonstrating any sociopolitical power.  But with the defeat of the Spanish rule by the 1590s, came opportunities for both upper class and lower class members alike. Some sects or faiths of Christianity were led by the noble families of the United Netherlands, who would ultimately use their connections to purchase or pay the captain for taking his ships and their followers to the new world. Still other sects or faiths of this regions had very unusual origins, borne by the poorest of the poor, and in direct conflict with many of the Christian Church's teachings, even the teachings of Christian religions twice removed from the Pope and Catholicism such as Protestant Reformed Calvinists and Lutherans.

Boehmism in New York, 1660s on
The Boehmites
The most influential mystic of this time was Jakob Boehme [Bohme], a shoemaker of the Germanic part of Europe closest to the United Netherlands. Boehme became a mystic by recomposing some of the writings, meaning and interpretations of the books composed by the most famous alchemist of all times–Paracelsus. Boehme took Paracelsus's most famous triune theory of alchemy, claiming that everything was composed of earth/metal, sulphur, and mercury, and converting Paracelsus physical-spiritual interpretation of these chemicals into a more spiritual form correlated with the body's energy and fluid like nature. Boehme received this information on how to interpret his "discoveries" by using some simple methods of seeing then popular in this part of Europe. Bohme gazed into the pewter stein-bearing tea leaves, and read the tea, steam and leaves in to come in contact with his own interpretation of the higher powers and cosmos–from where he obtained many of his famous sayings and visions. (This Dutch Tasseomancy craze was preceded slightly by news of a unique Oriental healing philosophy, moxibustion and metaphysical beliefs, discovered during a 1650s excursion to China by the Dutch, the results of which were published during the 1660s.)
Now of course, not everyone believed in Boehme's visions and revelations. But enough members of the local community in Amsterdam and Haarlem were no doubt fascinated by his teachings and claims. For a short time, this anti-establishment visionary caused Bohme to be jailed for his religious beliefs. And so his writings and teachings were barely learned about and retold during the early 1600s, much less composed on paper in the form of a book.  Once he was released from gaol and began to proselytize once again, he immediately become popular his "visions". It took Bohme  just several years for Bohme to develop his following, which was supported mostly by local mystics who later made their way, with their followers, to the Hudson valley just north of New Amsterdam.  These were members of the family of Frederick Phillips, of Sleepy Hollow. 
Boerrhaavianism
Jakob Boehme was not the only individual to rewrite the philosophy of alchemical thinking. the most popular scientist and early chemist of this time was Hermann Boerrhaave. Boerrhaave also rewrote many of Paracelsus teachings in order to relate some of these philosophical concepts to the human psyche and life energy, referred to then as the entia of the body. The entia of the body pretty much defined its physical, mental, and spiritual make up. Whereas believers in the entia typically related it to the human psyche and human behaviors, often based on emotional concepts which in turn were related to the physiognomy (form and symbolism) of the body, Boerhaave managed to have people, in particular the Dutch, attached even more meaning to this non-physical aspect of health and well-being.
Like Bohme, the Dutch rapidly assimilated the writings and teachings of Boerhaavian medicine into their medical philosophy. Not only did this enable them to incorporate otherwise unsupported medical practices related to soul and spirit such as the use of electric energy (i.e. the static electricity globe and the power of the Leyden Jar and its life-force entity), this also allowed some of the traditional alchemy of Paracelsus to be recomposed in order to fit the needs for the time of the people and their doctors.  The most influential of these writers was George Starkey, a philosopher-chemist and "Christian Alchemist", from Bermuda, who attended Harvard in 1649, where he sought out the philosopher's stone, and who subsequently had a major influence upon Robert Boyle.  Starkey's discovery was famous in local history, and was passed down by oral history before Osborn learned this unique formula nearly a century later.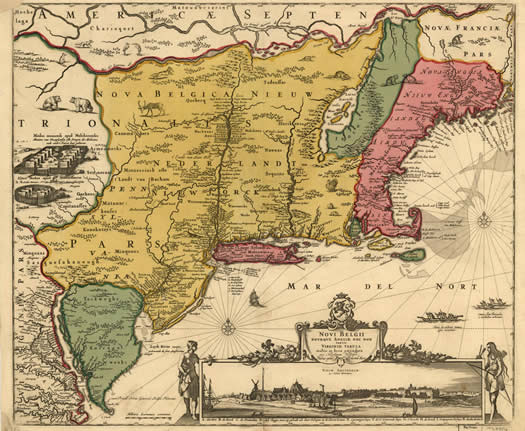 1650 New Netherlands map
Transitioning New World Beliefs.
When the Dutch and their fellow Europeans from other cultures came to the New World during the early 17th century, they brought with them a form of medicine rich in other cultural beliefs and practices. In the eyes of the British, this migration of new thinkers to the New World seemed the proper way to begin to make it inhabitable for other more upper class, traditional European families. But in very short time, this belief of the British changed when the Dutch laid claim to the Island of Manahata and the valleys of Hudson (then Mauritius River or River of Montagnards (mountains), and the Mohawk.
From Adriaen Block, 1614, the new Dutch Colony
Between 1625 and 1640, as the Dutch travels in this region continued, and their explorations and shipping of products back to Europe began to prosper, the English finally were able to settle the ownership of this part of the New World–then called the New Netherlands on the older maps. They traded parts of South America (around Suriname) with the Dutch in exchange for obtaining sole ownership of Manahata and the New Netherlands region. The subsequent cultural transitions that took place in the valley were only political and symbolic at best for much of the time. With the exceptions of largely settled urban regions like New Amsterdam, now New York, most towns and hamlets retained their cultural bringing. In the simplest sense, it would take a generation or two of passing elders for the traditions to be eliminated from the local lifestyles. In a more realistic sense, however, cultural changes due to the passing of elders were not so much the determining factor of local cultural change as were the other influences that persisted in these regions. Settlers were still travelling to the New World, and for the most part these settlers were not the Higher British families settling the New Britain colonies and provinces. There were still a variety of cultural groups making their way into this part of the New World, ranging from French-Loyalists placed there to keep the Canades (Canadians) back from New France (with its southern border close to Albania or Albany at the time), and various Religious and Sectarian leaders with an underlying understanding of loyalism and the loyalist governing traditions and philosophy for the time.
For the remaining 17th century and the first two decades of the 18th Century, much of the travel along the Hudson from Europe had the intentions of the British in mind. In spite of increasing British control, the cultural control remained Dutch-like in nature, with multiculturalism remaining the dominant feature of this part of the New World population. Even by the mid-1700s, as travellers made their way along the river by boat, they complained about the lack of English as the predominant language. It was not unusual to be on board a northbound vessel on the Hudson sitting alongside families that spoke all of the traditional and "crude" (lower-income class slang) languages of their mother countries, and little to nothing of the English language used by the ruling country. By the time the British language finally became a fairly common language in the Hudson valley, British tea imports were beginning to set the stage for the political separation of New England and New Britain from Old England and Old Britain. By the end of the Colonial period in Hudson Valley history, this region remained multicultural, never completely eliminating even the traditional Native American teachings from its philosophy and some of its traditions.
Multicultural Medicine and Dr. Osborn
The multiculturalism of the Hudson Valley had everything to do with Dr. Osborn's vade mecum. Even once I completed my research of Osborn's recipe book, a process that took eleven years, I had only managed to make preliminary sense of his varieties of recipes and his writing style and format. One just doesn't look at a colonial manuscript and decipher its meaning, especially that of a physician due to the various forms of language and applications of these forms one has to deal with. A physician in Europe traditionally learned, read, kept notes and even practiced and spoke medicine in Latin. This was pretty much changed during the 1600s when famous publishers and translators republished the most important books into other languages, such as English, French, Moravian and Bohemia. The most famous of such translators was Nicolas Culpeper, and herbal astrologer and Christian of the 16th and 17th century. Osborn, born several generations later, was more read and trained in the translated writings produced by John Swan and William Salmon.
By 1720, the year of Cornelius Osborn's birth, the Hudson Valley had several other changes taking place in the local cultural settings. Most importantly to Osborn's life and career, Jewish culture was transforming from a predominantly urban Jewish settings resided in by Sephardics, to a combination of urban Sephardic settings and country-rural and hinterland settings occupied by Ashkenazi's, either of Dutch origin or British Origin. The differences in these origins is important to understand, because Osborn's first interactions with a physician was with a Jewish physician Dr. Isaac Marks.
Local historians were never sure about when Isaac Marks was born. There are several very early mentions of a physician travelling through the region in which a Dutch doctor is identified, and later a French doctor. In one historians writings, the conclusion was drawn that these two were in fact the same, so leading to my suspicion that this physician was most certainly of Dutch origins, at least for the migration, and his Jewish faith either completely Ashkenazi or Ashkenazi with Baal Shem Tov influences.
.
Most certainly, Isaac Marks lifestyle was very countrybound and Baal Shem Tov-like. He travelled about with a cart, possibly driven by a mule, and in the first instance where he is working with Osborn, the two of them are carrying goods in the cart for New York Governor Clinton. By the late 1730s (1739).  Otherwise, the two lived completely different lives.  Dr. Marks is probably familiar with the complaint that another Jewish physician down south was accused of practicing "Magick", and is even more than likely familiar with a recent case that went to court about a woman what is now the Putnam County area practicing witchcraft, ca. 1720-1725.  Dr, Osborn didn't have these problems, as a Dutch physician who had the courage to include a little bit of Christian Alchemy in his repertoire.  Dr. Osborn got married in Haverstraw area and then purchased an unoccupied Dutch house standing on an old Dutch farm on the south face of what would later be known as Osborn Hill. By 1742, he is playing important roles in the local Dutch Protestant church setting as a physician with close ties to the local Huguenot culture.
Dr. Osborn's teachings in medicine are mentioned in his vade mecum. He mentioned several authors of books that he used to learn medicine, possibly written in Latin but more likely the English translated versions. He was able to compose prescription recipes in prescription Latin. These recipes included traditional European formulas with decades if not centuries of history behind them, along with a recipe strongly linked to the 17th century philosopher chemist Hermann Boerrhaave, the famous discourse on fevers by Daniel Turner, the most famous fever remedy (cinchona) offered to the profession by John Huxham, and the writings of the famous 17th century British physician Thomas Sydenham, translated into English by John Shaw.
Still, Osborn was taught medicine at a time when British domination of a Dutch culture was taking place in the Valley, at least on his father's side of the family (his mother and church were still Dutch). Cornelius worked alongside the Jewish physician Dr. Marks, and may have even been apprenticed by Marks, which would help to explain his fascination with both the physical and metaphysical alchemy of medicine.
Osborn's most fascinating recipe was his ens veneris, or 'essence of venus', which he used to treat the "wandering uterus" felt then to be responsible for the menstrual irregularities, missed periods and uncontrollable nature of women in relation to their venus cycle. Interestingly, Osborn did not adhere to astrological law when composing his ens veneris, he did not make it from any venetian element or compound like copper, and refrained from using any plants in this recipe. Instead, Osborn applied Iron to this formula. This use of iron was proposed by Robert Boyle, a late 16th century chemist who was trained in alchemy as well, but became largely responsible for eliminating much of the metaphysical tradition of the practice of chemistry. Robert Boyle deduced that if one is to treat blood, and use alchemy to produce this metallic remedy, why try to convert copper a green metal into some red metallic compound that became red in solution and thereby resembles the blood this solution was so symbolically was contrived to treat? Robert Boyle replaced copper with Iron, had it produced into a rust, and then mixed in water to for m the red beverage that served as a medicine. There was no doubt greater success with the ingestion of iron rather than copper in the attempt to treat blood-related diseases, like anemia. Boyle's recipe was favored by Osborn, who was again practicing a modified form of traditional medicine.
Cadwallader Colden
Osborn was also influenced by a neighboring family, the Coldens. The daughter of former Cadwallader Colden, living just across the river from Cornelius, was no doubt highly influential upon his training in plants and medicine. Due to this, Osborn learned to use the local plants as well as the more traditional imports contained in the pharmacopoeias. He learned to substitute local plants for the more expensive British herbal remedies, and in particular was learned in some of the local Native American herbal medicines like Dirca palustris (leatherbark), Sanguinaria canadense (bloodroot) and Xanthoxylum spicatum (prickly ash). The most important note he made of a local herbal remedy pertained to Polygala s'enega (Seneca [Indian] snakeroot)–an herb studied, pressed and identified by the (and perhaps taught to him by) America's first documented female herbalist Jane Colden, Cadwallader's daughter.
Like all physicians during this time, Osborn practiced bloodletting, made heavy use of opium to quiet the upset bowels (then it was used primarily to stop diarrhea), and taught each of his sons the practice of medicine. Dr. Osborn served in as a physician in the revolution, working in the Fishkill Encampment, and is possibly the physician spoken with briefly by the Marquis de Lafayette who passed through the camp during one of his early travels.
Marquis de Lafayette
When my research on Dr. Osborn's vade mecum was complete, I submitted an article on his life and writings which was published by the local historical society as part of its yearbook in 1993. My focus was then immediately switched from Dutch multicultural medicine to the earliest concepts of "alternative" medicine practiced during the 1800s. This included a study of the first adoptions of Native American herbs into regular (allopathic) medicine during the first years of the Post-revolution post-war depression. The first American Medical schools were opened soon after the war, beginning with the equivalent to today's Columbia School of Medicine just prior to the war, recommencing its program soon after the signing of the Treaty of Paris in 1783.
Between 1783 and 1805, several writings were produced detailing the local herbs and their potential use as medicines. Due to the war, trade with England was diminished and at times entirely lacking. The other most common source for medicines, the Dutch trade, assisted the former colonists in obtaining their valuable drugs, but local physicians were left to re-define medicine on their own for the most part. In spite of the war, some physicians did receive training in England or Scotland, and returned to the United States to help form the first medical colleges and lecture series in the US. Dr. Osborn's sons did not have to undergo this training, but his nephew, Cornelius Remsen of Long Island, probably underwent some of this training under one of the most reputable medical school professors and physicians of his time–Dr. Valentine Seaman. He was also trained by Dr. Bartow White, a close friend of the Osborn family's sons after Cornelius's passing around 1782 or 1783. Dr. Bartow White was trained by Seaman, and would bring to medicine as it was practiced in the Hudson Valley area a new take on the causes for epidemics like the various forms of fever, dysentery and consumption that seemed to strike time and time again. Trained in Climatology and Medicine, Dr. White and Cornelius Osborn's sons and nephew, came to practice America's first unique form of medicine. This new practice made use of both European Old World and American New World herbal medicines. But for the most part, medicine was changing into a study of element, mineral and metal-based medicines as well such as arsenic and mercury salts, iron powders, sulphur balms and waters, and natural salts formed by evaporating mineral springs water.
.
Most popular 1800-1840 disease theory: weather causes disease
The Hudson valley itself gave birth to a number of healing faiths and remedies in the years and decades ahead due to its unique natural features. People settled the counties of the river due to their natural springs, health weather and climate, local farms and foods, and outdoor recreation settings which included one of the healthiest sports of the time–horseback. Over the next 25 to 35 years, the transformation of medicine in the valley just north of New York city is what gave rise to "alternative" medicine as we today understanding these professions to be. It was the epidemics that followed that ultimately led to these new healing professions to become more popular than regular medicine.
The Hudson Valley and Poughkeepsie–Birthplaces for Alternative Medicine
It ends up New York City and the Hudson Valley had several features few other parts of this country had during both Colonial and post-colonial times. This part of the New World was formerly Dutch owned, and like the United Netherlands from where its immigrants came, the various faiths and beliefs in this part of the New World were, for lack of a better term, quite eclectic in both practice and philosophy due to the multicultural background. Like the United Netherlands, there were Huguenot communities nestled alongside the more traditional Reformed Protestants in possession of much of this land. Along with the Protestants, some British families ultimately came to own parts of this valley region, as well as an Irishman, and even a number of Jewish families (mostly of Sephardic descent). When the Moravians came to the New World by way of Philadelphia into Dutchess County during the 1720s, the rural setting made it safer for them to live the way they did in Europe–as settlers of mountainous woodlands and devoted naturalists interested in the representation of God through nature as one of their most spiritual experiences.
The natural features of the Hudson Valley made it one of the most philosophically mystical places on earth to many new settlers from Europe. To some, this place did not seem so rugged as it was supernatural in nature, with the largest clouds, heaviest bolts of lightning and loudest thunderheads to appear in the midday sun. Even as early as 1667, the Dutch traveller Jasper Dankaerts made mention of these features of the river edge and its mountainous landforms. A little more than a century later, some of this region was converted to the more pastoral farming settings admired by previously European settlers, quite similar to their home towns.  The spiritual connection people had to the natural forces rampant throughout the valley gave rise to new perspectives on God and nature as they were being rewritten by still more former readers and on-lookers now moving into this region.  Onlookers of these natural events could only watch in awe when nature's true forces came through and turned the whispering pines into howling, crackling examples of God's punishment  due to some societal or religious setting we had that was displeasing to Him.
Whenever families moved into the past of the United States, they typically move first to the heavily populated "urban" settings, such as New York city. They then move to places where previous members of their family reside, for most this was somewhere along some river leading into New Jersey, Connecticut or New York. Inevitably, most of these travellers made their way along the river through the Hudson Valley, where those groups least accepted by their former European cultural setting now quickly found peace by moving to the less settled parts of the middle upper Hudson Valley, halfway between Rensellaerwyck-Albania (Albany) and New Amsterdam (New York City). As noted previously, it was for this reason that the land upon which Dr. Osborn was settled, was previously owned by Jewish physician Isaac Marks, and was trained in medicine in the traditional Jewish, Dutch, German and English medical practices, along with some herbal medicine extracted from Wappingi, Mohegan and Iroquois Indians traditions.
Quakerism
As if this early colonial multiculturalism weren't enough for the valley, now other unique, "special interest" groups and communities began to make their way to the valley. The Quaker leader of the time, William Penn, managed to allow passage of Moravians to this part of New Netherlands, resulting in the first successful Christian Indian group to form–the remaining Mohegans living in parts of Dutchess County and near the Connecticut Border. Now, Penn's major sect of influence, the Quakers were developed their local following during the earliest post-war years.
An important Quaker physician of this region, Dr. Shadrach Ricketson, wrote a book on health, one of the first such books to be published by an American book press in 1802. Dr. Ricketson was professed in the electric cure, and had his philosophy as to how the electricity of the body and of the surrounding environment, had something to do with how people were being successfully resuscitated for the first time after their drowning in the Hudson River (known then as being pulled out of your state of "suspended animation").
Electric Cure
As if this was not enough uniqueness for the valley, just downstream and eastward, across the Connecticut border, a couple of other physicians were heavily promoting their own versions of the electric cure. There was one salesman who offered a new electric cure device that produced and stored a static charge on a glass globe, which could then be released upon contact to help bring your muscles back to life and cause your decaying nerves and muscles to be revitalized (paralysis due to a childhood febrile disease (polio) was common at the time). Still a little further southeast, there was a physician who took his own philosophical rendering of the device needed to store electricity (an early battery-like concept), which he fashioned into a pair of calipers with two different types of metal; upon contact, these metals would transfer energy to your body and heal you of all your illnesses. Were it not for his success in using this device during a yellow fever epidemic around 1796-9, he made not have become as popular as he did. But his calipers killed less people, than the bloodletting lancets used by the regular physicians of the time. No matte whom the patient or his/her background, the calipers were more acceptable than the lancet by many.
American Herbal Medicines
During the 1790s, one physician around this time in Poughkeepsie and Fishkill, Dr. Stephen Thorne, professed his expertise in "Antient" remedies (the old alchemical and European mineral-based recipes). A local pharmacist bragged about his offering for sale the newly popular native American herbal remedy Carolina Pink, the local natural substitute for the European provided South American herb Ipecac. One state over to the east, in Connecticut, a military site where Iroquois members were staying, had a colonel who professed his discovery of the identification of the Native American herb Lobelia–yet another substitute for the Ipecac remedy, one that would soon become highly popular due to a local New England farmer's book on medicine–Samuel Thomson.
By 1802, Poughkeepsie had its regular and alternative medical sects established. The regular doctors had already formed their professional medical group, which held its monthly meetings. However, since alternative medicine was not yet a major political move taken by some physicians and healing professionals, this group had members interested in other forms and philosophies of healing then being popularized.
Epidemics and the Rise in Alternate Theories and "Cures"
Most important to the popularization of alternative healing faiths were the epidemics. The thing about alternative medicine that enabled it to advance and made it most popular was simply the failure of regular physicians to heal common diseases. The most influential of these diseases came in the form of epidemics. Each time an epidemic returned or arrived for the first time in your town, you had to decide whether or not you wished to see the regular doctor again for his metals and bloodletting, or go to one or more alternative healers of various kinds. During the first 50 years of the post-colonial experience, yellow fever was the major epidemic to take its toll on the people, including doctors.
The cause for the yellow fever epidemics at the time was unknown (it was due to a mosquito virus brought in by products or water stored on merchant vessels). In 1802, this led New York-New Jersey physician and medical school professor Valentine Seaman, to use cartography for the first time in medicine to map out a disease diffusion of migration process. Dr. Seaman used this map to prove his theory that the yellow fever came in by ships and was somehow associated with the captains and passengers formerly on board those ships. For several years in fact, Seaman continued his use of maps to serve as proof of his theories for the yellow fever existing primarily next to international shipping ports. Seaman's final conclusion drawn from these maps was that the ships, their refuse, and the insanitary nature were the cases for yellow fever, by way of producing the miasma that then travelled from boats to shore from these ships, or were carried in by people and released into the air by them once the disease reached its peak state.
This theory for the Yellow Fever was the opinion of just one or a few professionals in Medicine. There were however many other theories as to the source for this miasma. Swamps, evaporating waters from a rain or lake, the gases released by carbonate-rich limestone, the stench of fowl seaside debris in the neighboring harbors, all were possible causes for this problem. The famous American author, statesman and publisher, Thomas Paine, even had his own theory that he published a booklet on detailing the unsanitary ship docks as the cause for the fevers in New York and just upstream from Harlem.
The popular culture interpretation of Yellow Fever was quite different at times. Popular culture taught the local communities that medicine still was a fate of the human body often left to God to make the final decisions about. To the most devoted, a fate such as an invisible epidemic disease, was completely in God's hands. From about 1800 to 1830, this was most definitely the most popular theory for yellow fever epidemics amongst the more religiously minded communities of the valley.
On at least one occasion, the return of this epidemic for the third year in a row suggested to many that this epidemic was of a divine origin (this "trinity sign" would later be referred to as the triennial fever). Only by flocking to the churches were people able to avoid its fate, although according to at least one family hiding in the church, as the miasma of this epidemic passed through the village, this miasma had the ability to enter a church and strike out entire families whilst leaving the remaining, to bear witness to an event reminiscent of the time of Moses. Of course, following such a tragedy, these people flocked to the church first for healing from God, and only thereafter, should they survive, to the lowly physician.
This religious concept of illness and disease had its origins in New England and New Amsterdam turned New York, in particular within the multicultural setting of the Hudson Valley. This concept was so credible to some that, even as regular doctors, they came to support religion first, medicine second. The best evidence for this is in the local literature and newspaper clippings, and on occasion in the various articles published about these fascinations Hudson valley people (as well as certain other highly religious regions) had for the triennial fever and what it taught us about medicine, health and well-being.
The French Influence
An unusual historical event happening in France–the preceding events to the French Revolution–played an important role in what was about to happen in the Hudson Valley beginning about 1806. The yellow fever had several times forced recent immigrants now residing in New York City to leave this urban setting and head up the river to healthier living places. This migration to and from the city in fact became common practice for the rich, who did this every time the yellow fever came in by ships. This migration was so frequent, it cause historian Helen Wilkinson Reynolds to makes numerous notes about this in passing during her reviews of the local newspaper, including a detailed review of local annual census counts. She was trying to determine why the people behaved this way. Reynolds was on the right track.
The use of Trines
The triennial fever, if you believed in this philosophy, which was not well-published, caused you to plan your moves in the right way, whenever the Almighty presented us with the right symbolic gestures. Poughkeepsie is a name with three syllables and twelve letters, 9 types of letters–Fishkill and Wappingers Falls are not. Although Fishkill was the big town and village before 1800s, once the triennial fever took its toll, everyone flocked to Poughkeepsie where they could remain for the rest of the epidemic. One son of the famous landowners, Robert Livingston, even marketed his retreat areas in the Poughkeepsie area using claims related to its healthy air, water, climate, lands, and 'blessed by the winds from the west'. The town of Poughkeepsie, if you wanted it to be, was just 3 or 6 hours upstream from the city, depending on what boat you took.
Between 1798 and 1803, this popularity of Poughkeepsie turned it into, as some would call it–the New Ballston Spa–referring of course to the much older Saratoga Springs positioned much further to the north. During this time, people migrated into the local hotel with the same name in order to recover from their consumption (tuberculosis) and treat their pleurisy. To others, this move served to prevent them from catching the yellow fever.
When the French and other European immigrants removed from New York City to Poughkeepsie, this town rapidly became a city with famous Jewish-Italian stained glass lampmakers, papers printed in multiple languages, baked goods of the highest calibre, and some of the best healers from Europe–including a French male midwife, a French trained mesmerist, and yes, another electric cure doctor providing his own forms of medical electricity.
For the more environmentally minded health-seekers, there were numerous rivulets or small rocky streams with waters trickling down into the river, from the hill leaving the upper parts of downtown. This water was considered medicinal, as cleansing as the Ballstown (later Saratoga) Springs to the North according to Livingston. Due to this popularity, the locals even had tubs set up in their backyard to gather this cold "mountain water", which they then rented for use at just a few pennies a day.
Chancellor Robert Livingston, 1804, by John Vanderlyn

 
In just the next few years, the Livingstons maintained their control of their control of the healing waters and climate faith, with Robert Livingston often publishing journal articles in which a French chemist analyzed the health-promoting mineral content of his most precious springs. A descendent of Cornelius Osborn and of the local Germanic family devoted to mountain-living and exercise as a cure, the Van Kleecks, owned the local drug store in Poughkeepsie and made the various forms of medicine available for the locals at good cost. Several locals were attracted to the newest healing profession then becoming popular, Thomsonianism. Due to the location of Poughkeepsie and the established importance of this town as a waypoint positioned just right between the more important towns and cities, by land or water routes, this city became the place for alternative medicine to be born and develop their strongest followings. For the first time, the members of the regular medical profession knew they were at both financial and political odds with America's first highly successful alternative healing faith.
Thomsonian Trinitarianism
Samuel Thomson, the founder of Thomsonianism, taught the readers of his book the basic triad "puke, purge, sweat". This was in opposition with the regular physician's practice triad: puke, purge and bleed. For much of the time the history of this practice has been reviewed by historians, the outcomes of their research have always been that Thomsonianism was its own uniquely developed faith, a product of Samuel Thomson's mind and imagination–the products of an uneducated farmer, which became highly popular due to Thomson's rural upbringing.
In 1845, this claim to Thomson's or Thomson-alone discovery was contested by an alternative physician, formerly a Thomsonianism but now an Eclectic physician, a medical sect that arose from New York City medical school graduate Wooster Beach (ca. 1825/6). This physician discovered several books written by Medical physician and Theologian leader Dr. Joseph Townsend. Dr. Townsend wrote several books on healthy life and living, and toured the European Army in the late 1790s witnessing medicine being practiced in the military settings. Dr. Townsend favored this form of practice due to its religious undertones, and the fact that physicians were promoting a form of practice that assisted the body along its natural course. To Townsend, puke, purge and sweat was this natural course. Townsend therefore favored the use if Ipecac to cause the vomit, Rhubarb or some other heavy laxative herb to cause the purge, and the used a bath to cause the sweat, often with teas and a tarp placed over the body to encourage it even more.
According to the eclectic physician publishing his review of Thomson's writings in relation to Townsend's books, Thomson simply substituted these herbs with two local, more American alternatives, and kept the sweating process, and then built the remaining parts of his practice from there. Some fo the underlying theory of Thomsonianism, as they were originally penned, were very much European-based and even hinted at Greek and Roman traditions. Thomson's own history of his profession however tells us a different story. Thomson claimed he discovered the use of Lobelia as a result of eating this herb and then a few minutes later puking it up. he also noted the influence of a local post-colonial matron trained in both American and European herbal practice, not traditional medicine. Whatever the case, Thomson produced a practice with a philosophy that catered to the farmer as well as the learned philosopher. The simple elements of his original practice-related routines made just as much sense as some as the bloodletting practice, and made even more sense to those devoted to "natural cures" that follow in the tracks given to each of us by God. It made the most sense to those into natural theology, by now a growing philosophy in both life and medicine.
This simplicity and emotional meaning that many could attach to Thomsonian is what made it very popular.  It had officially received the support of the Christian churches by being heavily promoted in their weekly magazines.   Thomson himself, although not much into professing any faith, maintained his quietness when patients using his medicine wrote their letters to the editor promoting the Thomsonian cure.  And as I have reviewed and mentioned numerous times elsewhere in my blogs, the nature of Thomson's cures and even the writing style for his book and recipes opened the door for overly zealot Christian to read heavily into the text itself, seeing the trinity in the Thomsonian cure whereever it was mentioned or used.  (This was later confessed even by one of Thomson's relatives, perhaps son, in a New York court scene around 1845-1850).
Thomsonianism became even more popular for decades to come due to the next yellow fever epidemics. O ne such epidemic led Thomson to travel around New England and New York to demonstrate the ability of his practice to work, claiming to reduce the numbers of deaths normally brought on by bloodletting and regular medical remedies. For a while at least, this practice was more popular than regular medicine, a part of Thomsonian history made evident by a review of Poughkeepsie's devotion to Thomsonianism, en masse along with other towns along the Hudson Valley.
But Thomsonianism wasn't the only religious sects of medicine to penetrate the valley.  By 1815, as Thomsonianism grew in popularity (it was "discovered," "invented" or created by Samuel Thomson around 1809, published in pamphlet form by 1812/1813), and the use of electric calipers became less common, trinity years continued to play a role in the local medical beliefs. Now maybe the triennial fever myth was now defunct in this social scene, but the original methods and reasons for using these new remedies were not lost. Physicians were still performing bloodletting, and recommending mineral drugs instead of the more "natural" herbal remedies.  As an alternative to these very invasive methods of cure, a Quaker in Dover, NY began to popularize a form of electric healing using static electric generators made with either glass plate, glass globes or cylinders. 
Two "ethereal fire" producers:  static electricity generated by glass disks 
Thomsonian followers were now trying to form political groups as this philosophy spreading from Connecticut eastward into Troy.  It took the most popular overland and waterway routes, diffused southward from Troy towards New York City, enabling Poughkeepsie to become a hub for this popular medical profession.  Over the next decade, Poughkeepsie had one of the most important Thomsonian supporters promoting this profession, Thomas Lapham, who sold Thomson's cure to local patients.  By the 1830s, Thomas Lapham was presiding over the county's Thomsonian Society of Friends, documenting its local popularity at the annual conferences held for the state society's meetings.   Around 1836, Thomas Lapham and another Thomsonian, George L. LeRow, began printing the first edition of one the most important journals for this profession–Poughkeepsie Thomsonian–which was successful published and distributed by 1835/6.    One year later, A.H. Platt took over for LeRow, and with Lapham published this journal for the next ten years.   
.
Throughout the first half of the nineteenth century, Thomsonianism, or Trinitarian Thomsonianism, continued to practice according to its faith and maintained a sizeable following.  From 1834 onward there were a few disputes with the court that had to be dealt with, nearly all pertaining to claims of quackery and attempts to nullify the methods Thomson used to legally define his practitioners.  It wasn't until around 1850, when a son of the founder of Thomsonianism was brought to court in Albany for malpractice claims, that an admission of the faith of Thomsonianism and its adherence to formulas based on processes and remedies grouped in threes finally came to light on paper.  (More on this confession, found in an Eclectic Medical Journal reviewing this court case, later.)  The importance of trinitarian and religious thinking in Thomsonian is quite evident when you read the journals supporting this practice for the early 1830s.  Religion and natural philosophy are the majors topic of discussion for many letters of support, and regular medicine and the use of mineral remedies was the most common subject discussed when the main topic was quackery,  Writers often confessed their support for Thomson's practice due to its openness to personal and cultural traditions, a feature of Thomsonianism lacking in regular medicine.
Overland trails from New York to Oregon
Alternatives Migrating to the West
Following the completion of my work on Doctor Osborn in 1993, it took me about two weeks to uncover a new vade mecum, this time penned by Dr. John Kennedy Bristow, a physician trained in Illinois from 1848 to 1851 in the popular alternative medicine at the time–Thomsonianism (named after Samuel Thomson of Vermont-new Hampshire area, popular from 1812-1855).
Dr. Bristow also left behind a book of recipes. Aside from his Thomsonian formulas, he including some recipes from a New York City and later Ohio Reformed Doctor Wooster Beach (NYC medical school graduate 1825). Along with his recipe book, Dr. Bristow also used a ledger in which he kept records of the patients he treated from 1848 to 1852 in Illinois, and from 1855 to 1887 in Oregon.
Dr. Bristow is an example of one of the alternative physicians of the Overland trails whom we know very little about. Born into a farming family of mountain wilderness areas of Kentucky and Tennessee, the Bristows moved when he was a child to the Bible belt portion of Tennessee and from there to Illinois where John was trained to work as a woodworker, specializing in a unique form of wood-bending used to make the yokes worn by oxen. John was married around 1845 and had one or two children before his first wife was taken by ship fever in the winter of 1847/8. The introduction of cholera into this portion of Illinois (Adams county area, next to Nauvoo, the heart of Mormonism for the time) in 1849 and 1850 turned his woodbending skill into a coffin-maker's skill due to the local needs. This ultimately led him to be more devoted in medicine and become fully trained in Thomsonianism by a neighboring physician/circuit rider.
Upon competing his training, Bristow travelled westward with many of his neighbors, hoping to escape the possible return of cholera the following Spring in 1852. By now, Bristow had a second wife and the two of them recently had a daughter, and as some evidence indicates had just given birth to a second daughter. This family travelled westward in April 1852, and by the time they reached Fort Kearney, his wife became infected with the Asiatic cholera, this time brought to the area by merchants and supply boats travelling the Platte River. He first lost his wife about three days later, and turned the youngest child over to a relative who was to keep her well nursed or milk-fed. Her death a few weeks later at first seemed to be related to her mother's demise, but more than likely was due to the wagon train passing through a region where Eupatorium plants grow; these plants are known to add their poison to cattle and oxen milk, which can be potentially deadly if fed to human babies.
John made it to Oregon, with his oldest son Elijah (then around 7 years of age) in September 1852. John was one of the last to claim land in Oregon through the use of the land claims offers sponsored by the US Government. He obtained this claim after a fairly aggressive but slow attempt to settle and develop this land and make it into a comfortable living space.  Following his construction of a small farm and homestead, he reinitiated his medical practice in Oregon following the winter of 1855. From 1856 to his retirement in 1883, Bristow practiced several forms of medicine, focusing on just a little of the standard allopathy (regular Medical) practices. He was trained in Eclectic Medicine, a redefined version of Reformed Medicine with a little of Thomsonianism included, followed by the interests in gymnastics and exercise as the means to good health which his brother in law had learned about through the military. 
1830, Francisco Amoros "Manuel d'education physique et morale"
The use of herbal medicines had grown both locally and in other parts of the country and become more complex during this time.  Official remedies were developed based on a method invented back east for producing concentrate extracts.  Homeopathy was now popular, but Bristow would have nothing to do with this philosophy.  A number of epidemics locally of a "severe sore throat" (diphtheria) led Bristow and a colleague of his, Dr. Sheldon, to initiate a professional group of physiomedical physicians, who printed their first medical journal around 1856, well before the regular MDs were able to establish their own professional group and medical school.  As the years passed, Dr. Bristow remained very active working as a Doctor on Horseback in Lane County.  But as he got older and his rheumatoid problems got the best of him, he slowed down his practice and by the time he reach 70 years of age worked mostly as a locally popular obstetrician.
In 1883, four years before his death, the first medical licensure laws were composed for the state of Oregon, forcing Dr. Bristow to cease his practice.  He remained active for the occasional midwifery skills his family, friends and neighbors required.  Bristow's emphasis on religious beliefs and their relationship to how you practice medicine made him what had become known locally as a physiomedical doctor, some of the most devoted followers of this Bible Belt version of Thomsonianism created and so-named by Alva Curtis, Ohio in 1852.  
Tracing Dr. Bristow's history of practicing medicine through his vade mecum recipes and ledger book entries, the overall success of alternative medicine history in Oregon is now better understood.  Oregon remains a hot spot in current alternative medicine success and history, and is the only state to have successfully opened a fully accredited school in naturopathy in 1956, as all the other remaining schools of naturopathy were closing down.  This school in Oregon was the main facility and only school in Naturopathy until 1973, when it opened a satellite office in Seattle, Washington, today's John Bastyr College of Naturopathic Medicine.