See on Scoop.it – Episurveillance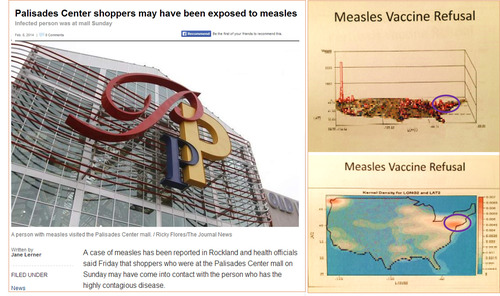 Brian Altonen's insight:
The recent exposure of a shopping mall to measles in Rockland, NY is a reminder of how important childhood immunization programs are and the need for ongoing surveillance of infectious disease patterns.
Three spatial behaviors define how outbreaks occur and the patterns by which they are likely to spread.
1) Population density is important to understanding these patterns due to likelihood of contact and the development of new victims.
2) Transportation and communication patterns define where people travel and aggregate, and the most likely routes to be taken by diseases or health problems imported from other locations.
3) In some cases, local land use patterns, and socioeconomics and human behavioral patterns help to define those parts of the country that are more susceptible to certain diagnoses and new cases than others.
The review of several immunizable diseases and their varying spatial patterns for outbreaks over the past decades, at the small area level, is at https://www.youtube.com/playlist?list=PLWrApErk5byY6emyCz0_ROOXw9FdsfCfY
A review of immunization refusal patterns in this country for childhood immunization programs is at https://www.youtube.com/watch?v=9TYCqtIg2Xs&list=PLWrApErk5byaJjbbjS6TEAAChZ7apmbzg
The Pacific Northwest, the nidus or nest for this behavior of refusing to immunize your child, is displayed spatially in detail and 3D at https://www.youtube.com/watch?v=YHH32Oq_obs&list=PLWrApErk5byaJjbbjS6TEAAChZ7apmbzg
According to the 2D krigged data map, the New York City region and urban settings in the Pacific Northwest are the epicenters for these outbreaks.