See on Scoop.it – National Population Health Grid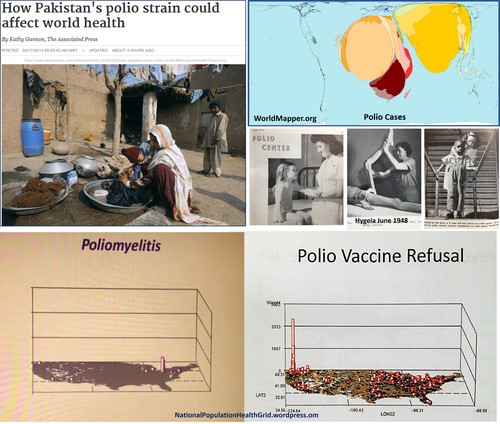 Pakistan's beleaguered battle to eradicate polio is threatening a global, multi-billion-dollar campaign to wipe out the disease worldwide.
Brian Altonen's insight:
Immunizable infectious diseases are making their come back in certain parts of the world. Polio is the most recent example.
In the United States, there is a human behavior that results in two regions with the highest rates of failure to immunize children–the Pacific Northwest urban center and the tristate (NY-NJ-CT) metropolitan region. This is according to krigged population health density grid mapping data and the evaluation of claims data identified by the appropriate V-codes.
Each childhood immunization disease has its own unique spatial pattern. (see http://nationalpopulationhealthgrid.wordpress.com/applications/01-childhoodimmunization/ and http://nationalpopulationhealthgrid.wordpress.com/applications/3-sociocultural-disease-clusters/
Polio is unique in that is appears to present with a well defined ecological and topographic cluster in the Great Lakes region of the United States. This could be due mostly to more effective surveillance and reporting practices for this region clinically, or some combination of population density, climate, weather, transportation, and landuse feature(s) that favor poliovirus activity and disease transmission.
Poliovirus is considered mostly a human-dependent enterovirus, that normally does not engage in processes involving livestock and other animals (excluding primates). Therefore, a cause for this unique geographical pattern of the cases has yet to be determined.
See on www.denverpost.com