See on Scoop.it – Episurveillance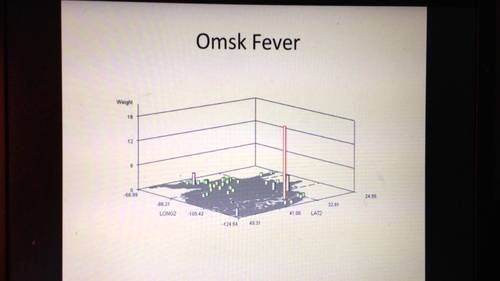 http://youtu.be/nk2HMqICMd8 IMG 0724 OmskFever
Brian Altonen's insight:
In 2006, I was asked by two companies in Atlanta, Georgia to develop a model for surveilling in-migrating disease patterns.
.
This is why I re-developed my algorithm used to map cholera outbreaks back in the late 1990s.
.
I then tested this technique on dozens of very unusual foreign-born diseases migrating into this country and resulting in cases being documented in a national EMR database.
.
After producing more than one hundred maps of international disease patterns, I merged these into disease patterns for combinations of ICDs linked to certain parts of the world. By merging so many ICDs together, patterns emerged enabling you to tell if diseases are spread across land based international borders with the U.S., by air-water travel Pacific Rim routes, or via traditional commercial air-water routes involving the East Coast, Saint Lawrence and the Great Lakes, or the Mississippi River.
.
The Omsk Hemorrhagic Fever, named for its first descriptions published for Omsk, U.S.S.R. in the 1940s and 1950s, is an example of a disease pattern that can take either the east coast or west coast route.
.
Contaminated water, ticks and an animal host like the muskrat are important natural ecological requirements for its distribution. Human population density and cultural demographic patterns define its human ecological distribution patterns.
.
This video map depicts numerous isolated cases in EMRs which are probably the result of in-migrating people with a history of exposure or need for "rule-outs" for this diagnosis. (Rule-outs typically include the ICD for a specific case the lab is asked to remove from a list of possible diagnoses, and so these appear in the EMRs, but as single hits.)
.
The loner peak in the Southwestern U.S. is an exceptionally high number of cases, suggesting (but not at all proving): i) possible Pacific Rim in-migration behavior and therefore ecological origin , and ii) a probable rule out of human ecology and population density as the sole explanations for this particular outbreak.
.
One role of the spatial epidemiologist in disease surveillance is to locate potential niduses, so they can be ruled out where appropriate or added to local surveillance programs.
See on www.youtube.com