See on Scoop.it – National Population Health Grid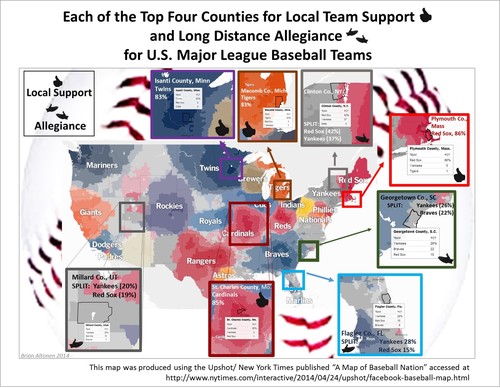 I used this Upshot/NY Times mapping tool available on the internet to evaluate counties for highest level of local team support, and longest distance allegiance to teams based on distance and percent support or allegiance to a distant team.
Brian Altonen's insight:
No county could be located that had a 100% score for local team support.
.
Allegiance or devotion to a former home or distant team was found in several expected places such as Florida (NY'ers winter paradise) and the Boston Red Sox-NY Yankees border in upstate NY.
Unexpectedly, Utah also has its own major followings for each of these teams. South Carolinians on the other hand were split between NY and Atlanta.
.
The best scoring local support that I could find (and by "local", I mean from the diamond to the neighboring teams' territorial edges) was Boston Red Sox (86%), followed by St. Louis Cardinals (85%). [However, territorial area was not evaluated!!]
.
This interactive mapping tool, (for now, April 30th 2014), can be found at http://www.nytimes.com/interactive/2014/04/24/upshot/facebook-baseball-map.html#4,43.328,-74.795
See on www.nytimes.com