See on Scoop.it – Medical GIS Guide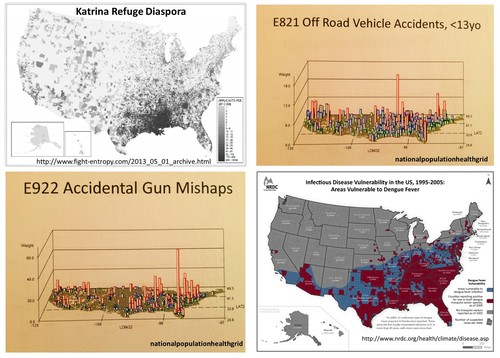 Do you think your allergies are bad now? Federal report shows that climate change may lead to longer, more intense weather patterns that could dramatically impact our health, especially for the most vulnerable populations.
Brian Altonen's insight:
GIS has innumerable applications to population-season-climate-public health monitoring activities. Temporal changes and latitudinal (seasonal temperature migration) changes are the first that come to mind, but influences of the environment upon human behaviors and peoples' health are just as important. Disease in-migration patterns need to be monitored. Animal born disease patterns can undergo change overnight, without adequate warning signs.
Climate change over time, such as global warming, accelerates those changes already in place, and adds more to the agenda for research teams trying to monitor regional change patterns. Thus the need to have a very successful GIS program in place for monitoring these public health statistics.
Two international/governmental documents worth exploring on this topic:
STATISTICAL COMMISSION and ECONOMIC COMMISSION FOR EUROPE. CONFERENCE OF EUROPEAN STATISTICIANS. "Draft recommendations on climate change related statistics." Presented at the Third Meeting of the 2013/2014 Bureau Geneva (Switzerland), 28-29 January 2014. ECE/CES/BUR/2014/JAN/18. 8 January 2014. Prepared by the Conference of European Statisticians'
Task Force on Climate Change Related Statistics. 8 January 2014
Accessible at http://www.unece.org/fileadmin/DAM/stats/documents/ece/ces/bur/2014/18-Draft_recommendations_on_climate_change.pdf
and,
IPCC WGII AR5 Summary for Policymakers.
http://ipcc-wg2.gov/AR5/images/uploads/IPCC_WG2AR5_SPM_Approved.pdf
See on www.boston.com