See on Scoop.it – Medical GIS Guide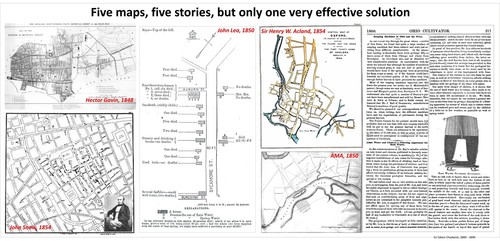 A number of ways to map cholera were use during the mid-19th century epidemic. Most of these methods were completely correct. Yet only one was accepted as the most important at the time–that of London epidemiologist John Snow. Of the remaining four disease mappers, one other was equally accurate and another from the United States very valuable due to the association its author made between alkalinity and the disease.
Brian Altonen's insight:
What do the accomplishments of past disease cartographers and medical geographers teach us?
If we spend the time reviewing their methods, logic, and in some cases, important findings about the spatial distribution of people, communities, organisms and disease, we are provided with important insights into the more modern uses for medical GIS.
Recently, a considerable amount of celebration in England focused the 160th anniversary of John Snow and his famous map of cholera. Snow used this map to prove and prevent the transmission of this disease throughout a part of London. He also used it to demonstrate the value of hygienic living practices and the importance of a clean water supply.
Today, we are still very much concerned about the cleanliness of our drinking water, and our risk of exposure to toxic chemicals, bacteria and other environmental health hazards.
For this reason, another map produced before Snow's 1854 map deserves recognition. In 1850, John Lea of Cincinnati, Ohio published a map and pamphlet on the local cholera epidemic, claiming the cases he observed were due to the use of well water contaminated by non-alkaline (non-calcareous) soils. He recommended rainwater be used instead. Much of the public agreed, and a number of businesses were established to produce rainwater barrels.
John Lea's map is more detailed than Snow's and yet was completely forgotten. Lea correctly associated the relationship between cholera and alkaline wells. John Snow never supported his theory, and claimed that Lea's observations were correct but his reasoning was somehow wrong (see my International Journal of Epidemiology article on this–link below).
Over the next several years, John Lea fought many of the arguments against his alkaline theory, and never won the support of the profession. (A lot of his other lines of reasoning were wrong.)
As a result of this forgotten discovery, a Japanese epidemiologist received recognition for the same decades later, demonstrating that pH and alkalinity determined whether or not the bacteria that caused cholera could survive.
Other maps depicting the mid-19th century cholera epidemic in the illustration include one published by Hector Gavin of London (ca. 1848), which made use of miasma theory to explain how the undernourished poor could become so sick.
In 1850, the American Medical Association (AMA) published a map depicting the cases near Philadelphia, but unlike Lea's map was very difficult to interpret.
Also important to note is the cholera map published the same year as Snow's famous map by British epidemiologist Henry W. Acland. He produced a map of equal caliber to Snow's, one that was more colorful.
For more on this see
my article published in International Journal of Epidemiology . . .
Brian Altonen. Commentary: John Lea's Cholera with Reference to Geological Theory, April 1850 . International Journal of Epidemiology 2013 42: 58-61. Link: JohnLea-Cholera_IJE-Article
or . . .
https://brianaltonenmph.com/gis/historical-disease-maps/henry-wentworth-dyke-acland/
https://brianaltonenmph.com/gis/historical-disease-maps/john-leas-geology-and-cholera-1851/
and William Farr's elevation and cholera paper at
https://brianaltonenmph.com/gis/historical-medical-geography/1852-william-farr-elevation-and-cholera/
See on brianaltonenmph.com