See on Scoop.it – Episurveillance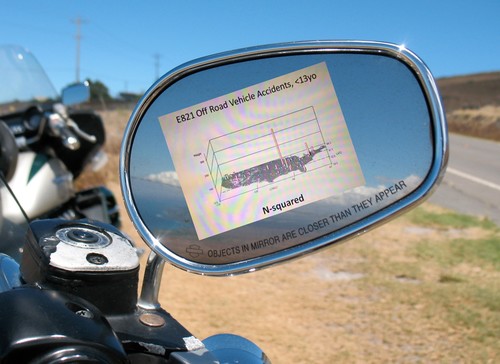 Before you hand over the car keys to your teenager, know the facts. Car accidents are the leading cause of death for teenagers ages 15 to 20. Before you let your teenager take the keys, is s/he in the middle of ongoing texting with someone? Before jumping to conclusions about his or her behavior, do you know where s/he'll be going, and is it on-road or off-road? Finally, how many times a week do you text to your teens and/or children while driving home?
According to these stats, 48% of kids 12 to 17 years of age have been in a car while the driver was texting. We don't know what percent of kids at home receive texting from their parents, while they are driving. But even if there was just a two percent rate for this behavior while in a moving car, this means that at least half the time, a poor example is being demonstrated to teens about right driving behaviors.
Brian Altonen's insight:
2009 Teen Motorcycle Accident StatisticsUnfortunately, we are not as up to date with teenage motorcycle accidents as we are for other teen motor vehicle accidents.In 2009, 205 young motorcyclists (ages 15 to 20) were killed, and an additional 5,000 were injured.Of the young motorcycle riders who were fatally injured, 26% were not wearing helmets.Of the young motorcycle riders who were fatally injured, 39% were either unlicensed or driving with one that wasn't valid.Teen Drivers, Cell Phones, and Texting32.8% of high school students nationwide have texted or e-mailed while driving.12% of distracted drivers involved in fatal car accidents were teens ages 15 to 19.Talking on a cell phone can double the likelihood of an accident and can slow a young driver's reaction time to that of a 70-year-old.Drivers under the age of 20 make up the largest percentage of distracted drivers.56% of teens admit to talking on cell phones while driving.13% of teens admit to texting while driving.34% of teens age 16 and 17 admit that they send and respond to text messages while driving.48% of kids ages 12 to 17 report being in a car when the driver was texting.
See on www.edgarsnyder.com